Article: Washable Rugs for Everyday Living
Washable Rugs for Everyday Living
At Lore Rugs, we believe that every rug tells a story. Inspired by stories past & present, from bygone eras, to memories in your home yet to be created, The Fable Collection is both aesthetically pleasing and highly practical. These rugs effortlessly combine charm, colour, and character, ensuring they are the perfect addition to any room in your home. If you're looking to add a touch of elegance that is hard-wearing and easy to keep & clean , these machine washable rugs have got you covered!
Timeless Vintage Inspired Designs
Reminiscent of antique heirlooms, introduce the classic elegance of vintage designs into your modern home. Crafted with intricate patterns and rich colours, the Fable Collection allows you to create a nostalgic atmosphere that complements various interior styles. Their timeless appeal ensures they can easily transition from one room to another, making them an excellent long-term investment.
Kid and Pet-Friendly
Home is where the heart is and at Lore we know that kids and pets are an essential part of our families. That's why these machine washable rugs are designed to withstand the rigors of daily life. The durable construction ensures they can handle heavy foot traffic and the playful antics of pets.
Say goodbye to worrying about spills or muddy paws, as these rugs are stain-proofed, making clean-up a breeze! For busy family homes, we recommend vibrant designs such as the Kyra or Farrah rug. Simply blot any accidents with a clean, dry cloth to remove! 
Versatile for Every Room
Whatever space you're looking to revamp, these vintage-inspired rugs fit seamlessly into any room. From the living room to the bedroom, from the kitchen to the nursery, they add a touch of comfort and warmth to every corner of your home. Their versatility means you can experiment with various placements and configurations to find the perfect match for your interior décor.
Easy Care and Maintenance
Let's face it, accidents happen! We've all been there, spilled our morning coffee, little hands squashing berries into our gorgeous new rug. With the new washable collection from Lore Rugs, gone are the days of worrying about professional cleaning or replacing stained rugs. Enjoy the convenience of machine washing your rug from the comfort of your home with The Fable Collection. The durable material is specifically chosen to handle domestic washing machines, saving you time and effort. After washing, allow to air dry, and your rug will be ready to add charm to your home once again!

Captivating Colours and Patterns
Brighten up your living spaces with a burst of colors and captivating patterns. Whether you prefer the vivid, vibrant hues of the Roya rug or the subtle, understated designs of the Sura or Ava, this collection features an array of options to suit every taste and preference. These rugs will undoubtedly become the centerpiece of your room, drawing admiration from your guests.
Say hello to easy maintenance, stain-proof protection, and timeless appeal. Bursting with character and style, the Fable Collection is perfect for every home, making daily life more convenient and giving you one less thing to worry about. Discover Lore luxury rugs and start your story today.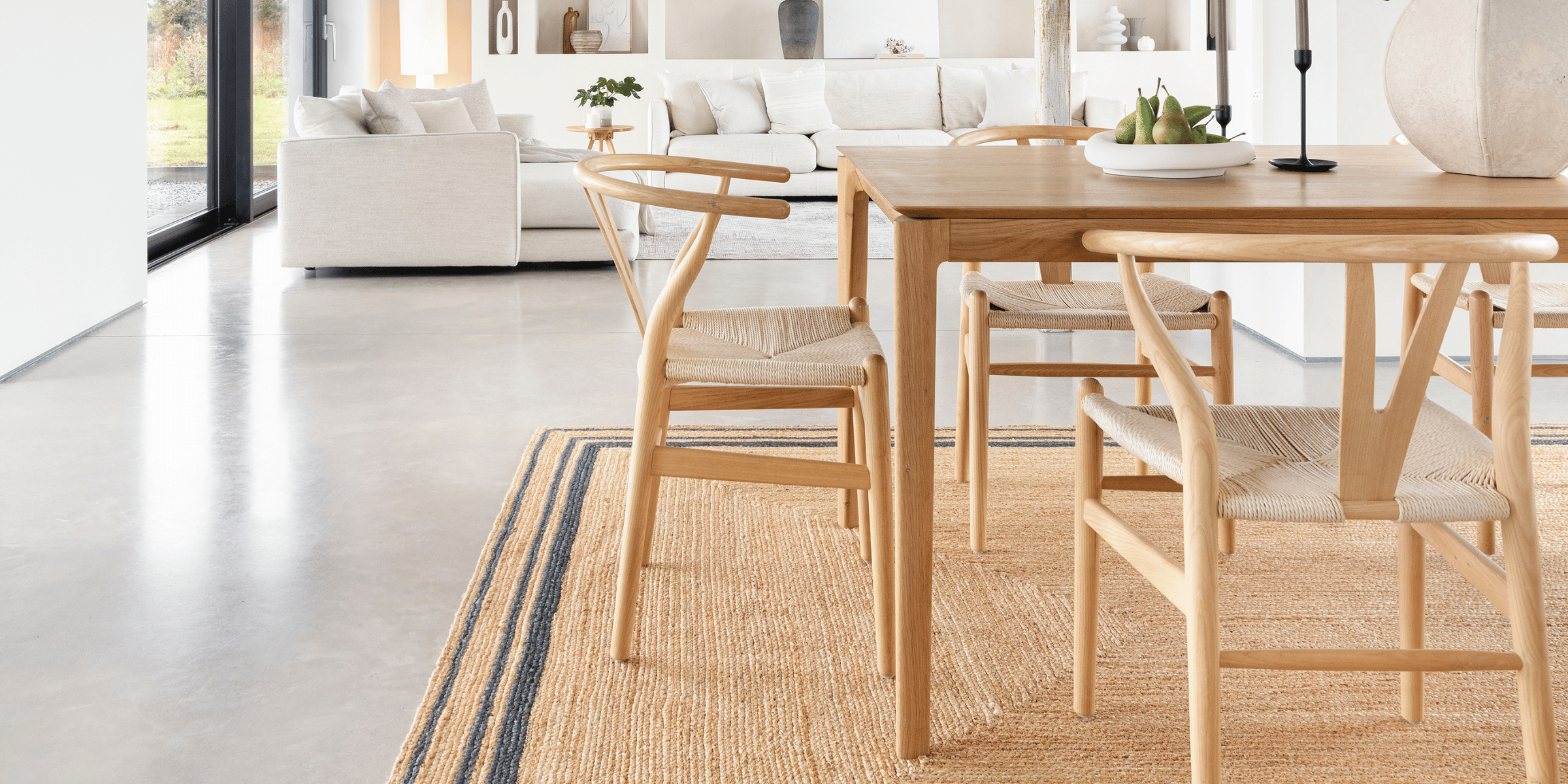 Jute
Unearth the Charm of Jute Rugs
At Lore, we are passionate about appreciating our heritage and connecting with nature. Inspired by the land that we call home, we have created the Roots Collection in honour of the beautiful trees ...
Read more